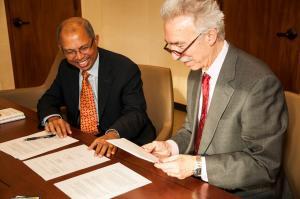 The Subir & Malini Chowdhury Center for Bangladesh Studies, established in December 2013, and officially inaugurated on March 30, 2015, with a generous gift from the Subir and Malini Chowdhury Foundation. The Center is housed under the Institute for South Asia Studies at the University of California at Berkeley and it champions the study of Bangladesh's cultures, peoples and history. The first of its kind in the US, the Center's mission is to create an innovative model combining research, scholarships, the promotion of art and culture, and the building of ties between institutions in Bangladesh and the University.
The pioneering force behind the Center is Subir Chowdhury. Mr. Chowdhury, originally from Chittagong and trained as an engineer, is a renowned business consultant, author of many books, and is one of the world's leading management gurus particularly known for his emphasis on quality.
In addition to promoting and integrating interdisciplinary scholarship, the Subir and Malini Chowdhury Center will sponsor lectures and conferences and provide the following three scholarships:
The Center was officially launched on Monday, March 30, 2015 by UC Berkeley Chancellor Nicholas Dirks, Founder & Chairman of BRAC Sir Fazle Hasan Abed, and Mr. Subir Chowdhury. Click HERE [CHANGE LINK] for a video recording of Sir Fazle's lecture and pictures from the event. Click here to read a feature article on the Subir and Malini Chowdhury Center for Bangladesh Studies in the Dhaka Tribune.
UC Berkeley Faculty and Scholars with a special interest in this region
Please visit the people page to read about our affiliated faculty, scholars and students. 
Bangladesh-related Library Collections
Berkeley's research and collecting interest in South Asia is a long-standing one, dating back at least to 1906, when Sanskrit was first taught here. At that time, the Library's acquisitions included Indic religion, history, philosophy and literature, in Sanskrit and Western languages. Later collecting added most of the social sciences and humanities, in South Asian and Western languages. The South and Southeast Asia Library (SSEAL) has an extensive collection of specialized reference material for South Asia and a collection of unbound current periodicals and newspapers. Most circulating items for language and literature, history, political science, economics, sociology, government documents, philosophy and religion, South Asian art and art history, women's studies, and the South Asian diaspora are shelved in the Main Stack. Some branches and affiliated libraries have collections of South Asian material including Anthropology, Education/Psychology, Bioscience, Environmental Design, and Music. The number of monographs in all languages, including English, is approximately 450,000 with the current collections in Bangla itself comprising 23,000. The Library subscribes to around 500 serial and newspaper titles in South Asian languages and about 3,300 titles in English and Western languages.
Bangladesh-related Course Offerings
The philosophy of the Bangla teaching and program at Berkeley is to make the students aware of the incredible depth and range of Bangla culture from the 19th century to the present. Bangla teaching highlights the cultures from pre-Independence Bengal in India, modern West Bengal and Bangladesh, as well as the culture of the diasporic Bangla population in North America. Language, culture, nation, history and politics are brought alive through Bangla teaching at UCB. The Bangla program, since it started in 2005, has already been able to fulfill its unique potential through sustained student participation and scholarly engagement with the Bengali language, culture and society across the borders of the two Bengals. We offer both language focused as well as content based courses in Bangla.
Language Courses: The goal of the Bangla program is to provide UCB students with comprehensive solutions to learning Bangla language and culture at both the Introductory and Intermediate levels.
Content Courses: Content courses on Bengal's culture and history cover a wide range of topics: 19th-century Bengali social and cultural Enlightenment; nationalist and colonial struggle in Bengal and India; the Partition of India and Bengal in 1947; and the Bangladesh Liberation War in 1971. Both the Bengali materials in English translation, and the cinema of Bengal have been effective tools of instruction about this regions past and present.
We are strongly committed to both adding as well as enhancing the offerings available through the Subir and Malini Chowdhury Center. Naming opportunities continue to be available in some of the following areas:
Internship and research opportunities in Bangladesh
Courses on Bangladesh or the Bangladeshi-American community.
Lecture series on Bangladesh.
For further information, please contact:
Director, Subir and Malini Chowdhury Center for Bangladesh Studies
Executive Director, Institute for South Asia Studies 
(510) 642-3608 
sanchitas@berkeley.edu