The Subir and Malini Chowdhury Center has three main goals: to showcase innovative research on Bangladesh; to train the next generation of scholars on Bangladesh, and to create opportunities for collaborative research between UC Berkeley and top institutions in Bangladesh. 
---
American Institute of Bangladesh Studies (AIBS) and the U.S. Embassy in Dhaka
The Chowdhury Center in partnership with the American Institute for Bangladesh Studies (AIBS) and the US Embassy in Dhaka runs a program through which five to ten faculty members from top universities in Bangladesh are invited for a week-long stay to campus to participate in a program focused on academic writing and publishing. Titled the Faculty Workshop on Research Writing & Publishing, this program brings faculty members from Bangladeshi institutions of higher education to be in residence for one week at the Chowdhury Center, where they take part in workshops on research methodologies, writing, and the publishing process led by UC Berkeley faculty. The workshop culminates in a day=long symposium where the faculty present their their papers in progress. The final product, as a result of this workshop, will be an academic paper that can be submitted to a peer-reviewed journal for publication.
The first workshop was held from Oct 11-19, 2016. The closing symposium was held on Oct 20, 2016 as a pre-conference to the annual South Asia Conference in Madison, Wisconsin. Details HERE 
The second workshop was held from April 23-27, 2018. The closing symposium was held on April 28, 2018 in UC Berkeley. Details HERE 
---
Bangladesh Development Initiative (BDI)
Over the past several years the Chowdhury Center has partnered with the Bangladesh Development Initiative (BDI), a US based non-political research think tank and advocacy group of Bangladeshi professionals based in the United States, in organizing international conferences on Bangladesh in UC Berkeley. The conferences have been extremely successful and productive. Please click on the links below to read more detailed information about BDI as well as the conferences.
Development and Democracy in Bangladesh: Current problems and Prospects. Berkeley CA, Nov 6 - 8, 2015 
Bridging the Policy-Action Divide in Bangladesh: Challenges and Prospects for Bangladesh's Future. Berkeley, CA. Feb 22-24, 2013
---
Bioengineering, UC Berkeley and the Bangladesh University of Engineering and Technology (BUET)
The Chowdhury Center and the Department of Bioengineering at UC Berkeley are partnering with the Bangladesh University of Engineering and Technology (BUET) for a faculty exchange program. This exchange program will bring BUET faculty specializing in Bioengineering to UC Berkeley for a period of one to two months. During this time, they will have the opportunity to learn and engage in the educational and research opportunities at UC Berkeley's Bioengineering Department and allow for potential research collaborations to develop.
---
In 2018, we welcomed two distinguished faculty members from BRAC University. Sabina Rashid and Samia Huq. 
Dr. Sabina Rashid is dean and professor at Brac University's James P. Grant School of Public Health, teaching gender and sexual and reproductive health and rights. Working closely with the LGBT community, she is helping establish SHARENET, a virtual platform in Bangladesh, at the school's Center for Gender. Dr. Rashid will be a visiting scholar at the Chowdhury Center and at the Center for Societal Medicine. Click HERE to read a short reflection by Dr. Rashid on her Chowdhury Center visit.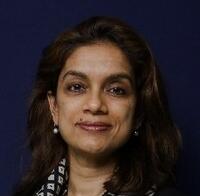 Dr. Samia Huq, a visiting scholar at the Chowdhury Center, is an anthropologist and Associate Professor at the Department of Economics and Social Science at BRAC University. She obtained her PhD from Brandeis University, USA, looking at women's religious discussion groups in urban Bangladesh. Her current research includes cultural activism of Bengali Muslims of East Pakistan, and the impact of secondary secular and madrasa education on gendered norms and practices, as part of the Initiative on Education, Gender and Growth in Asia. Click HERE to read a short reflection by Dr. Huq on her Chowdhury Center visit.
In December 2015, four UCB faculty; Lawrence Cohen (Anthropology), Raka Ray (Sociology), Poulomi Saha (English), and Allan Smith (Epidemiology), spent a week at BRAC University  and conducted workshops on undergraduate teaching and research methodology as well as engaged with BRAC faculty on collaborative research.
Prof. Lawrence Cohen's workshop titled, Rethinking Medical Anthropology and its Methodology, included discussions on the body in modernization theory and explored ways in which those theories could be integrated into participants' research projects. He also conducted an interactive session for faculty members on methodologies of teaching sensitive topics such as race, gender, and sexuality. (Picture on right),
An expert on gender and feminist theory, inequality and emerging middle classes, Prof. Raka Ray's workshop entitled, Searching for the Middle Classes, raised the question of whether the middle class was an economical or a cultural category and explored the politics of class and gender within the emerging middle classes in South Asia. (Picture on right),
Prof. Poulomi Saha, Assistant Prof. of English conducted a workshop titled Theory of Methodology in which she looked at the application of critical theory to disciplines such as English and Anthropology that are engaged in analyzing culture through texts. She also focused on the concept of interdisciplinarity and the need for going across disciplines in pursuit of research objectives. (Picture on right),
Professor Allan Smith a global expert on public health, conducted an intensive workshop on Arsenic Contamination in Drinking Water in Bangladesh. Highlighting the urgency of the problem and its implications on future generations, the workshop focused on new areas of research on the effects of arsenic contamination on pregnant mothers. (Picture on Left)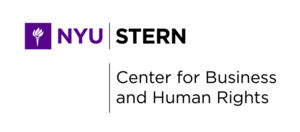 Center for Business and Human Rights, NYU Stern School of Business
The Chowdhury Center collaborated with the Center for Business and Human Rights at the NYU Stern School of Business on a research project aimed at examining a new agency focused on garment factory inspection and remediation. This newly proposed entity, titled Shonman (or respect) will have some similar characteristics as the foreign monitoring initiatives like the Accord and Alliance. The goal of this research was to understand the structure of this new platform, its main objectives, and the strategies by which the tasks of Shonman will be carried out. We will jointly publish a research brief highlighting these findings. Kashfia Nehrin, Master of Development Practice student and Malini Chowdhury Fellowship on Bangladesh Studies fellowship recipient has carried out this research.
---
Council of American Overseas Research Centers
The Chowdhury Center collaborated with the Council of American Overseas Research Centers (CAORC) on three events dealing with the Rohingya issue in the Spring semester of 2020.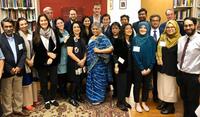 1. A screening of Yusuf ZIne's I Am Rohingya: A Genocide in Four Acts, on Thursday, February 9, 2020, a powerful documentary that chronicles the journey of fourteen Rohingya youth who take to the stage in order to depict their families' harrowing escape from Burma. 
2. A one day conference titled, Beyond the Crisis Narrative: Rohingya Statelessness and its implications for Bangladesh, held on on Friday, February 7, 2020, that brought together scholars, activists, and members of the community to discuss the Rohingya crisis from the perspective  of Bangladesh. Video recordings of the presentations may be viewed here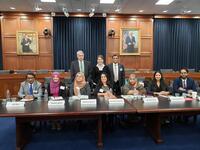 3. On Monday, February 10, 2020, a team of scholars and specialists including Chowdhury Center Director, Dr. Sanchita Banerjee Saxena; UC Berkeley PhD student, Samira Siddique; Founder of Naripokkho, Shireen Huq; Yasmin Ullah of the Rohingya Human Rights Network Canada; Illinois State University's Prof. Ali Riaz ; Restless Beings Directors Mabrur Ahmed and Rahima Begum ; Exec. Director of Council of American Overseas Research Centers (CAORC), Rick Spees; President of American Institute of Bangladesh Studies (AIBS) , Golam M. Mathbor addressed Congress in Washington DC offering policy recommendations and ground updates on Rohingya and human rights situation in Bangladesh. Here are some pictures from their visit. During this visit, Prof. Riaz and Dr. Saxena were also interviewed by VOA Bangladesh. A link is to the recording is here
---
Council of Minorities
With the support of the Chowdhury Center for Bangladesh Studies, the 7th annual National Minority and Indigenous Youth Leadership Summit was held in Dhaka, Bangladesh from July 3-5, 2018. The Summit was attended by over 60 young leaders representing numerous religious and ethnic minority communities from across the country including: Marma, Santal, Urdu-speaking, Dalit, Christian, Buddhist and transgender. Together, and with the nation's top legal and social justice advocates, they discussed how to support authentic community-led development. The Summit was hosted by the Council of Minorities, which is a Bangladeshi nonprofit that aims to ensure the social, cultural, political and economic rights of minorities and indigenous people. A detailed report on the summit, which includes more pictures, may be viewed here.
---
Dickson Poon Transnational Law Institute (TLI), King's College London
On Nov 22, 2019, the Dickson Poon Transnational Law Institute (TLI) at King's College London and the Subir & Malini Chowdhury Center for Bangladesh Studies at UC Berkeley were pleased to hold the first of a conference series titled, "Critical Perspectives on Power, Accountability and Agency in Global Supply Chains." This conference series follows a number of events previously held by TLI, as part of a larger research project that seeks to resituate the global supply chain as a multifaceted research object between theory and practice. This inaugural conference included a book launch of "Labor, Global Supply Chains and the Garment Industry in South Asia: Bangladesh after Rana Plaza," a new book edited by Chowdhury Center Director, Dr Sanchita Banerjee Saxena. On the right, please find some pictures from the event. 
---
Independent University, Bangladesh
In the summer of 2016, Independent University, Bangladesh will be hosting faculty for a series of workshops on teaching general education classes, health and mobile technology, and the garment industry.
---
International Centre for Diarrhoeal Disease Research, Bangladesh (ICDDR,B)
The Center developed a workshop on Methodological Tools for Social Scientists for the International Centre for Diarrhoeal Disease Research, Bangladesh (ICDDR,B), an international health research organization located in Dhaka, a two-week long course that included workshops on: Research design, Interviews and coding, Gender analysis, Community based participatory methods, Survey Research, Experimental design for project evaluation, Evaluating PoUs, Library research, Modes of explanation in the social sciences and Writing for social scientists. Site visits to the Center for Global Health and the Center for Neglected Diseases were also a part of the workshop.
---
London School of Economics & Political Science: The South Asia Center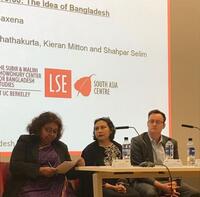 LSE South Asia Centre and the Chowdhury Center jointly organised the first-ever LSE-UC Berkeley Bangladesh Summit.
The Inaugural Summit took place in 2018 and was held in London on June 5, 2018. The goal was to focus on the major issues that confront Bangladesh as it moves forward and what other solutions that may be available and possible.  Panelists discussed the rights of minorities, ethnic groups and the wider society within which they are located, and heard the views of individuals from different contexts – academics, researchers, activists, grassroots workers, media personnel, and others. Click HERE to hear podcasts of the various talks that were presented at the first summit. Additionaly, click HERE to see a video of an interview in which Mahima A. Jain asks Dr Sanchita Saxena, Director of Subir and Malini Chowdhury Center and Dr Mukulika Banerjee, Director of LSE South Asia Centre about their vision for the partnership, Bangladesh studies and placing Bangladesh within the South Asian agenda. 
The Second Bangladesh Summit was held on February 22, 2019 in Berkeley. Click HERE to hear podcasts of the various talks that were presented at the first summit. At the second LSE-UC Berkeley Bangladesh Summit Adnan Hossain (Vrije Universiteit Amsterdam) discussed his research on the place of Hijras in Bangladesh. Click HERE to hear him explain the place of the Hijras historically in Bangladesh, the significant of recent legal changes to their place in Bangladeshi society, and their status in across the region.
The third and final Bangladesh Summit in this series will be held in Bangladesh in 2020. 
---
North South Uni­ver­sity (NSU)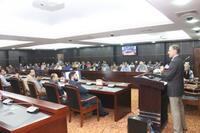 The Center is exploring a possible collaboration with NSU in the area of clean energy. As a first step, Dr. Daniel M. Kammen, Professor of Energy at UC Berkeley, Director of Renewable and Appropriate Energy Laboratory (RAEL) and Chair in the Energy and Resources Group (ERG), and doc­toral stu­dent Samira Sid­diqui, recipient of the 2017 Subir Chowdhury Fellowship on Quality of Life in Bangladesh, visited NSU in Feb 2018 to discuss "Profitably Powering the Clean Energy Economy". This event was organized by the Office of External Affairs and facilitated by NSU HR Club.
---
The Chowdhury Center s pleased to collaborate with the 
University of Victoria
 on 
Gendered Threads of Globalization: 20th c. Textile Crossings in Asia Pacific
, a symposium that unites scholars, activists, artists, and policy makers from across North America, Asia, and Europe dedicated to these issues. Events include panels, roundtables, film screenings, interactive workshops, and artistic performances.
The symposium will be held on March 27-29, 2020. The first 2 days will be at the University of Victoria and the final day will be at the UVic Legacy Art Gallery in downtown Victoria.