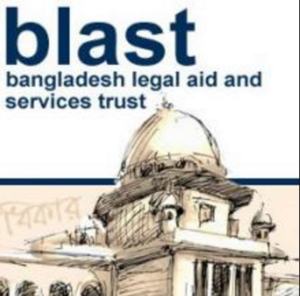 REMOTE INTERNSHIP SITE: 
Internship Dates: May 20 - August 20, 2018. 
Note: All Subir and Malini Chowdhury Center interns will be required to submit a 1-2 page op-ed style article about an issue raised by the internship by September 1, 2018.
Openings
Two Remote Internships
Application Deadline
5 pm, Thursday, March 15, 2018.
Company
Bangladesh Legal Aid and Services Trust (BLAST)  
Interns will be given an award of $500 each from the Subir and Malini Chowdhury Center for Bangladesh Studies. This is expected to cover a portion of their living expenses during the internship.
Research/Project Area
BLAST's focus areas in 2018 include access to justice for those living in poverty or in marginalised communities; legal protection of women's rights (access to family courts; women's economic entitlements post dissolution of marriage); prevention of and protection against child /early/forced marriage; protection from gender-based violence; discriminatory laws regarding rights in the family; workers' rights, including improved working conditions, protection from sexual harassment at work at increased collective bargaining capacity of workers; children's rights (juvenile justice/ ending corporal punishment in schools); disability rights; sexual and reproductive health and rights; housing rights; and development of remedies in tort, including for road deaths, and for workplace deaths and injuries.
The intern's daily activities will be based upon their interest in the above areas and expertise as well as the needs of BLAST, and may involve the following:
Legal research including on international and comparative law in relation to strategic litigation cases
Assistance with public interest litigation and implementation of court directives
Reviewing/editing of press releases, case summaries, research reports, advocacy documents, policy reviews/briefs and publications
Drafting documents to support grant writing and proposal development
Skill set or discipline preferred
Have a general interest and knowledge in human rights, law and access to justice issues in South Asia, specifically dealing with rights of marginalised and excluded communities.
Have a BA in Legal Studies, or other relevant studies in social sciences (graduating seniors may apply). A student or graduate of law (JD) or Masters of Development Practice is preferred.
Be highly motivated, self-managing and organized.
Have a strong interest or experience in providing legal aid or being involved in research or advocacy on rights and justice.
Experience in communications is helpful.
Have full professional proficiency in both written and spoken English.
---
TO APPLY CLICK HERE
APPLICATION DEADLINE IS 5 PM ON THURSDAY, MARCH 15, 2018